TRAINING
Lead Your Business during Crisis an Online Forum which commenced on Oct 12, 2020 is exclusive to MEADFA Members. This forum is a bi-monthly event that is ongoing throughout 2021.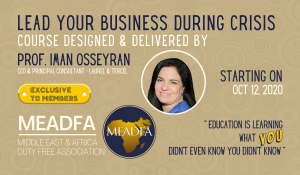 The economic impacts of Covid‐19 pandemic are significant, and as the crisis unfolds, many companies are trying to understand, react to, and learn lessons from rapidly unfolding events. The full impact will only be clear in hindsight.
The Covid‐19 crisis has now reached a new critical phase where public health systems need to act decisively to contain the growth. Clearly, the main emphasis is and should be on containing and mitigating the disease itself. But the economic impacts are also significant. Unanticipated twists and turns will be revealed with each news cycle, and we will only have a complete picture in retrospect. Hence, flexibility and quick decisions are mandatory to every business in the world. What remains important for companies is to offer their employees genuine personal and professional support. It is the time to practice Empathetic Leadership at its best.
Nevertheless, given the very different degrees of preparedness across companies, the further potential for disruption, and the value of being better prepared for future crisis; it's worth trying to extract what we have learned so far. We have distilled this program to help MEADFA members and their employees respond to unfolding events, communicating, and extracting and applying learnings.

OUR VISION:
Knowledge and Skills development is vital to the health of every organization. MEADFA's commitment to contribute to the growth and progress of the duty free industry encouraged the Board to initiate the MEADFA Training & Development Programs. The "Learning Together" process proved to be extremely successful. Consequently, bringing together members' employees at one event and facilitating exchange of information between various operations have been appreciated by all. Over 600 delegates attended the MEADFA Training & Development programs during which all participants demonstrated eagerness and enthusiasm in sharing the new practices learned and information exchanged at their workplace. Programs organized to date and offered to the benefit of MEADFA members are:
Building service excellence
Train the trainer
Negotiation skills
Cross cultural Communication
Leadership Programs
Stock Control and Supply Chain Management
Finance for Non-Finance Managers
Human Resource Forum
Retail Forum
Warehouse & Supply Chain Forum
Sales & Marketing Forum
E-Forum – Lead Your Business During Crisis

Keeping in line with our aim to continue expanding on the training initiative we have held four programs during 2014. It is our aim to further develop this into a broader platform in the future

It is a privilege for MEADFA to be part in the growth and progress of the Duty Free industry. Many challenges remain and we look forward for new projects to maintain our standards of quality and value.